Claire Rutkowski - A Zealous Leader With Brilliant Abilities To Deliver IT Solutions | CIO VIEWS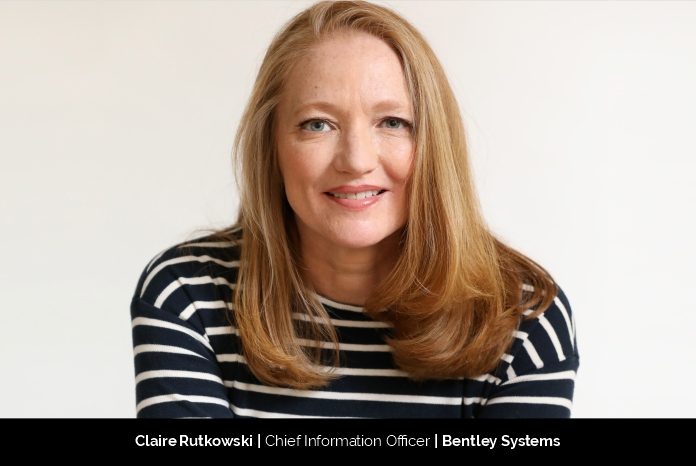 Every leader has a unique definition of success. Tell us about your thoughts about success and why do you feel that?
Success is generally the achievement of a goal or objective, and those goals and objectives vary between people. Even for a specific individual, what success is will be different depending on whether they are looking at their personal or work life, and will also change as the years go by. What someone needs to be successful at 22 is not the same as what they need to be successful at 45. If I limit my response to success as a leader at work, then the answer is simple. I want to add value to the company by helping Bentley achieve its goals, and I need to ensure the people on my team feel supported, safe, and respected. These are both minimum table stakes. If I'm not adding value, then I have failed, and similarly, even if I do add value, but do it in a way that makes people feel demoralized, disrespected or unsupported, I have still failed. Success is accomplishing BOTH objectives simultaneously.
Leading a company to success is not an easy road to take. What inspired you to take the step of faith? What led you into this industry?
I have always been passionate about finding ways to leverage technology to make our jobs and lives easier. I started out in technology writing macros, creating templates, and designing and building databases. Over time this grew into a wider interest in all types of technology, but I found that many of my technology colleagues had difficulty explaining technology in a way that people could understand, so I jumped into more of a leadership role to help translate. It is not worth having technology that can make your life easier if you don't know how to use it.
Challenges make you stronger. What is your take on this? What were the roadblocks that taught you valuable lessons in your professional journey?
I do think challenges make you stronger if you don't let them frustrate you to the point of giving up. Being a woman in a male-dominated field has certainly been a roadblock at different times in my career. Sometimes people assumed I was there to take notes or couldn't "be technical." But I rose to that challenge by making sure I knew my stuff, and by having the confidence to recognize that while I might be different, that does not make me any less valuable. In fact, there is value in the differences. This definitely helped me with the gender challenge.
I also faced a challenge while managing a particularly long and complicated ERP implementation. The project had about 30 global resources. Time zones, cultural differences, and high expectations of the team all contributed to a difficult working environment. However, this forced me to think creatively, standardize and increase the frequency of communications, and implement shifts with formal handover calls every day. This got the project done more quickly and improved my skills as a project manager.
Tell us more about Bentley Systems and its services.
Bentley Systems is the infrastructure engineering software company. We provide innovative software to advance the world's infrastructure – sustaining both the global economy and environment. Our industry-leading software solutions are used by professionals, and organizations of every size, for the design, construction, and operations of roads and bridges, rail and transit, water and wastewater, public works and utilities, buildings and campuses, mining, and industrial facilities. Our offerings include MicroStation-based applications for modeling and simulation, ProjectWise for project delivery, AssetWise for asset and network performance, Seequent's leading geosciences software portfolio, and the iTwin platform for infrastructure digital twins. Bentley Systems employs more than 4,000 colleagues and generates annual revenues of more than $800 million in 172 countries.
Tell us about your contribution in redefining the growth of the company.
Bentley Systems is a forward-thinking technology company that is advancing infrastructure and looking into a future of interconnected digital twins – digital replications of the physical asset – so that everything can be done virtually before it is done in the real world. As CIO, I have focused on breaking down silos among teams and ensuring we keep our accounts foremost in mind. Before joining Bentley, I worked at an architecture, engineering, and construction firm. I was a Bentley account for years. This outside-in perspective has been very useful in helping to point out how things we, as Bentley, might do will be perceived by our users and accounts.
How do you stay abreast with the growing competition in the industry?
It can be quite difficult to keep track of what the competition is doing. I try to stay abreast by reading industry publications, blogs, and visiting web sites. I also subscribe to newsletters and attend webinars and conferences. I think it is important for any leader to be sure they are constantly scanning the environment, talking with their peers, and gathering information from multiple sources.
What is your vision for the company and how do you wish to influence a change in the generation?
As I have stated, Bentley Systems is a great place to be. We are the infrastructure engineering company, and we will continue to provide great software to our users and continue to be a supportive place to work for our colleagues. With the advent of digital twins, we have been able to help our users advance existing and new infrastructure. We achieve this by improving data quality and accessibility. Importantly, infrastructure digital twins can be achieved "in place," without having to disrupt or replace existing workflows or systems. Digital twins are enabling us to be the premier technology provider to engineering organizations and design firms around the globe.
Tell us about your life before Bentley Systems.
I joined Bentley five-and-a-half years ago. Previously, I was the CIO of MWH, a global wet infrastructure engineering firm. I was with MWH for 19 years and wore several hats, including corporate trainer, project manager, head of the PMO, Americas regional director, and CIO.
Tell us what marked the beginning of your career? What has been the best recognition that you received as a leader.
My career in IT began with my first database built in Access. The database incorporated forms, reports, and input screens to make it easy to use and find information. The best recognition I ever received as a leader wasn't an award or a promotion. It was an off-hand comment someone once made. They said "We should ask Claire. She's a straight-shooter." I will always say it like it is.
What are your responsibilities as the CIO of Bentley Systems? Walk us through your regular day at work. Also, define yourself in one word.
As Bentley's CIO, I am responsible for a team of 200+ IT professionals. I maintain and update our IT strategy, operate governance processes, and steer projects through to completion. I have a lot of help and great leaders on my team who also work to provide world-class systems and desktops to our colleagues so they can deliver incredible products and great support, while ensuring we operate in a compliant and secure way.
Has it been difficult to thrive in the industry as a woman in lead?
When I started as a CIO in the engineering and construction industry, only 4% of CIOs in the top 500 infrastructure firms were women. People assumed I was there to take notes as someone's assistant. But I rose above that by making sure I knew my stuff, and by having the confidence to recognize that while I might be a woman, that does not make me less valuable. And it is clear that the times are changing. Most companies now recognize that having a diverse workforce adds a different dimension to decision-making and team dynamics. There are more perspectives to consider, which leads to increased creativity, more innovation, and faster problem-solving. Numerous studies have also concluded that having diverse executive representation has led to increased profits, which means there are now many more women leaders than before. Not enough yet, but we have certainly made progress.
How do you maintain a balance in your personal and professional life? How do you keep your employees and yourself, motivated to deliver the best services?
Maintaining balance between home and work life can be very difficult, particularly in these days of ubiquitous working from home, social media and information overload, and the constant pressure to keep moving forward. Many of us became overloaded, depressed, anxious, and stuck in a work-life blur. I try to practice a few relatively simple things to keep things balanced as much as possible, such as:
Having a separate space for my office

Keeping to regular office hours, even though I'm not in an office right now
Declining meetings when the work gets to be too much
Taking vacation days

Having specific actions and objectives related to my personal life

Giving my personal activities time on my schedule, purposefully, to ensure balance
Getting enough sleep

Saying no to as much as I can that isn't vitally important to me – whether at work or in my personal life
What are your plans for the future of Bentley Systems? Also tell us about your personal goals as a leader. What is your message to aspiring women in lead?
In the future, I plan to be more out front working directly with CIOs and working with our Account Advancement and User Success teams on how to interact and work more effectively with CIOs, as opposed to heads of engineering, CTOs, and CFOs. We each have our own needs that should be catered to in a more customized way.
For women in leadership, I would say keep at it. It can be a lonely place, but by staying positive and pushing forward, we are setting the example and paving the way for those who follow us. And for women who are not yet in leadership but aspire to be so, find a mentor – man or woman. Or better yet, find several mentors who can each help you with a different aspect of your self-development. I have never known anyone refuse to mentor me, so don't be afraid to ask! You will benefit from the input and advice, and you will be building a network of people who want to help you succeed. No one ever gets there alone.